It's been one of those weeks where things aren't going my way. Earlier in the week, I was at the point of throwing my hands up in the air and crawling back into bed or under my rock (whichever was closest was the best option). Instead, I decided on my motto to get me through the week: "patient people wait for good things to come…and kick ass while doing it." I realize this is not a completely original quote, but more of a spin off of an old time favorite. However you look at it, it did the trick for me. I'm still waiting for my good things to come, but I'm not going to let the negative drag me down in the meantime.
Oddly, my pity party earlier in the week is not what inspired this blog. In fact, I was watching the recent movie "Beautiful Creatures." At the end of the movie, one of the main characters recites a poem by Charles Bukowski called "no help for that." This resulted in my searching the web for this particular poem and coming across various other quotes including a quote by Joyce Meyer, "I'm not where I need to be, but thank God I'm not where I used to be," and a quote with an unknown author, "Sometimes you have to look back in order to see how far you've come."
These quotes triggered a lesson I learned in therapy school, and which I continue to use in my own life and share with clients: the roller coaster.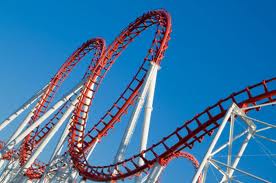 Life and therapy are like roller coaster rides. At times, you may move forward, whether it is a painstakingly, slow pace or a quick as lighting pace. At some point, you will fall back, but eventually you reach the point to move forward again. Although we all experience "falling back" throughout life, the goal is we gain the skills to keep our forward momentum longer than the fall back. At those times when we fall back, and we may begin to feel defeated, it is important to remember how far we have come from the past and use that to gain your momentum to move forward and keep moving forward.